The Summer Fruit Day of Mas Badia was devoted to apple varieties, cultivation techniques and machines for phytosanitary treatments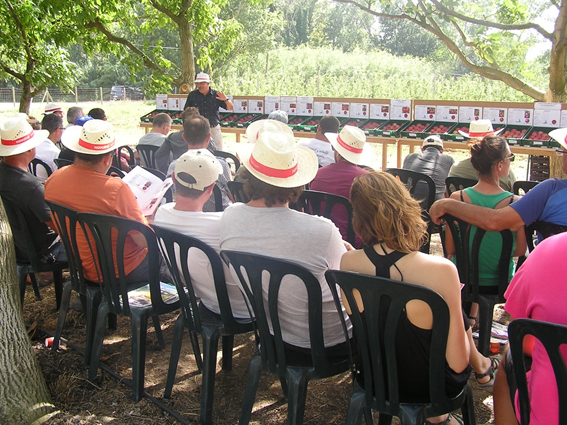 Between the days 2 and 3 of August took place the Day Fruit of summer in Mas Badia, dedicated to the crop of the apple, and that has as starting point the harvest of the apples Gala. About 150 people participated in the event, among which were local farmers, technicians and business people.
During the day, the different varieties of Gala apple were shown, the reference and recommended varieties, as well as the new clones. Of these, it highlights the high percentage of red coloration, both for the estiadas type 'Gala Schniga® SchniCo', 'Ultima Gala® Banning Gala' or 'Gala Venus®'; as for the 'Gala Big Bugs® ABCz-69' type, 'Gala Schniga® SchniCored' or 'Gala Star® Galafab'.
In the different field stations the clarification was treated and the Geene method was presented, a support tool to assess this type of treatment. The method is appropriate because it allows knowing the effects of the rinse when its effects have not yet been observed. In this way, there is still time for intervention. This method measures the growth of small fruits at certain times. The tests show that it is a reliable method, although a measurement and marking time is required.
In front of a sorghum crop, the results of the trials were presented to reduce the effects of replanting, a work that is part of a Working Group. The strategies that have shown the most growth of the trees in the first year of planting have been the biofumigation prior to the cultivation of the apple tree – be it with mustard-type brassicas or sorum-type graminias – and the other is to apply organic marinades like a Brassica carinata pellet , which has also shown good results compared to the usual strategy (with the contribution of monoamionic phosphate and an organic amendment).
The effect of bees on the use of neonicotinoids in pre and post-flowering of the apple tree was also discussed. The results have shown that the residues found in the products tested, both in pollen and in apple nectar are below the oral LD50 established by the EFSA for each product. Parallel to these studies, other tests were carried out to find insecticides that could be used in place of neonicotinoids for the control of pugons, and equally effective alternatives were found, such as, for example, azadirachtin and Spirotetramat.
The day culminated with a demonstration of machinery for phytosanitary treatments. Fede, AMP, Teyme and Makato presented their atomizers to make high precision treatments with low volume of broth and reducing drift to the maximum.